How exactly does the preparation process work with Greyledge?
Unfamiliar with biologics? See the following chart for a step-by-step look at the process for preparing autologous BMC and PRP, from diagnosis to recovery.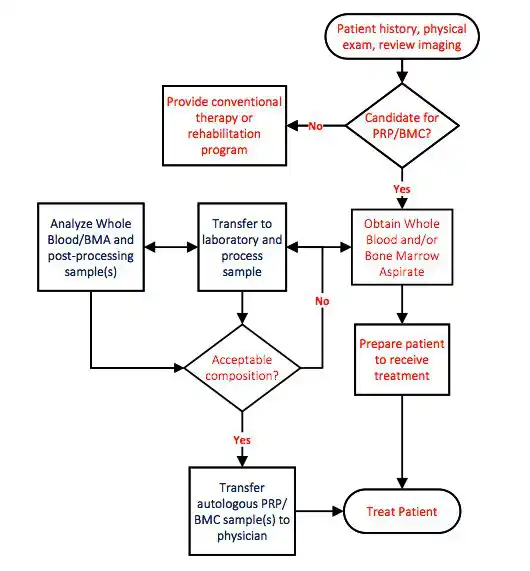 Does Greyledge offer its data to physicians?
Yes. All data pertaining to blood draws, preparations, and results thereof will be available to both you and your patients. This allows both Greyledge and our user physicians to ensure an optimized sample for treatment and to track outcomes, gauge our success, and keep our product on the consistent, reliable and continually improving. Greyledge's first-in-class database technology collects the patients' biologic product data, and in parallel, will use electronic follow up questionnaires with patients to collect their self reported response to treatment. Our technology will continually track and analyze that data to find trends within Greyledge's user network, compiling thousands of patients' data to always learn how to improve our products, improve the delivery of them into patients, and advance the field of Regenerative Medicine.
I'm a physician who is interested in becoming a Greyledge user. Where do I start?
Greyledge strives to make utilizing our technology as simple as possible for any provider who is interested. If you're ready to treat your patients with the most cutting-edge, scientifically-based cell therapy available today, click here to begin. We can't wait to get started with you.